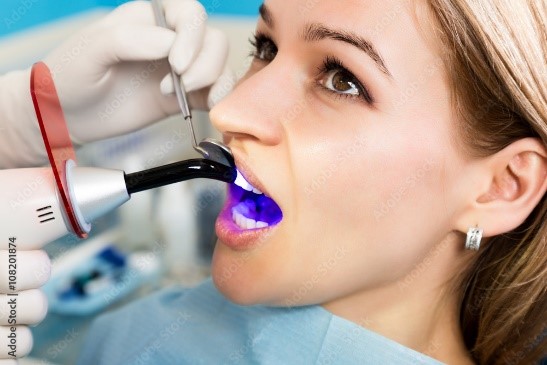 Cosmetic bonding is an aesthetic dental treatment used to correct a range of smile issues. This quick treatment uses a small amount of tooth-colored composite resin to fix these cosmetic problems in as little as one hour. Before you move forward with this treatment, it's important to make sure it's the right fit for you. To help you determine that, read on to learn about four problems cosmetic bonding can fix.
#1: Chipped or Cracked Teeth
Whether it happened when eating something hard or due to an accident, minor chips and cracks in your teeth can make your smile look a little lopsided. Fortunately, cosmetic bonding may be just what you need to revitalize your beam. During this treatment, your cosmetic dentist applies a composite resin to the area and smooths it out. This can restore your tooth's appearance if the chips are small or medium in size. Anything larger than that may require dental veneers or crowns.
#2: Gaps in Your Smile
Small gaps between your teeth are another thing that can prevent your smile from looking straight and uniform. Your dentist can use cosmetic bonding to sculpt the resin into any size or shape. This allows them to close the gaps in your grin, therefore making your pearly whites look more uniform.
#3: Staining and Discoloration
Teeth naturally become stained as we get older, but having a discolored smile can make it difficult to feel confident in your pearly whites. If professional teeth whitening treatments aren't able to remove stains from your teeth, cosmetic bonding may be able to do the trick. Your cosmetic dentist can sculpt it to conceal minor to severe discoloration for a brighter, whiter smile.
#4: Alignment Issues and Misshapen Teeth
Are your teeth perfectly aligned? If they have minor alignment issues that make your smile look a bit crooked, cosmetic bonding can help. The treatment can moderately alter the shape of a tooth to make it look straighter. This can also help mishappen teeth better match the shape of the rest of your pearly whites.
4 Tips for Taking Care of Bonded Teeth
If you opt to have your teeth bonded, there are a few things that you can do to ensure that your results last as long as possible, including:
Avoid staining – Make sure to limit your consumption of dark or highly pigmented foods and drinks, such as berries, coffee, soda, tea, and red wine.
Avoid biting hard items – Don't bite down on hard items like plastic, nutshells, pen caps, and ice. You also shouldn't use your teeth as tools, as this can damage both your bonded and unbonded teeth.
Visit your dentist – See your dental team every six months for routine cleanings and exams.
Maintain good oral hygiene – Brush your smile twice per day for two minutes and floss every night before you go to bed to avoid decay and issues with your cosmetic bonding.
If you're interested in improving your smile with cosmetic bonding, reach out to your dentist. In just one visit, you'll be able to achieve a confident, healthy smile you love!
About the Practice
Located in Bedford, PeaksView Dental treats their Virginia patients with a variety of exceptional oral health services. Their talented team is led by five highly skilled dentists who aim to prevent oral health issues as well as treat existing ones. They also offer treatments like cosmetic bonding to correct smile issues for a more beautiful beam. If you're ready to set up an appointment or want more information, call PeaksView Dental at (540) 586-8106 or visit their website.