Dental Patient Information – Bedford, VA
Dentistry Made Simple
& Easy
At PeaksView Dental, we don't want visiting the dentist to feel like a chore for our patients, which is why we try to give you all of the information you need to be prepared for your first visit. Below, you can find our new patient forms, information about dental insurance and financing, and what you can expect at your initial visit with us. If you have any questions or concerns, don't hesitate to reach out to our team.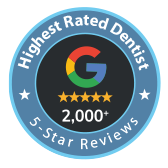 Your First Dental Visit
If your first appointment with us is a checkup and cleaning, we'll take you back to one of our comfortable treatment rooms after we input your information into our system. You'll get a chance to meet with one of our dentists and dental assistants, where they'll thoroughly examine your mouth in search of any signs of oral health problems. If they spot anything, they'll discuss it with you, along with the recommended treatment plan. Finally, before you leave, we will be sure our hygienists adequately diagnose and plan your next visit, so you can leave your next appointment with healthy teeth and gums.
New Patient Forms
Once you schedule your appointment, our team will reach out with the necessary forms that you'll need to fill out. This gives you the opportunity to fill these out ahead of your appointment and be ready to go!
Dental Insurance Welcome
We want to make getting the dental care you need as accessible and simple as possible, which is why we're happy to accept dental insurance that's both in-network and out-of-network. We file claims on our patient's behalf to maximize their benefits and have negotiated discounted rates and fees with dental insurance companies listed below. If you have any questions, don't hesitate to reach out to our staff!
We proudly accept the following dental insurance plans:
Ask our friendly team if we take your plan.
Learn More About Dental Insurance
CareCredit Financing Available
PeaksView Dental offers financing options for our patients. CareCredit provides special financing and low monthly payment options, no up-front costs, and no-prepayment penalties. The financing is available for any dental treatment including necessary procedures like root canals or cosmetic procedures like whitening, veneers, dental implants and more.
Flexible Financing with LendingClub
In addition to CareCredit, our office provides flexible financing through LendingClub. LendingClub matches you with potential dental loan offers with APRs that can range from as low as 3.24% up to 35.99%. Upon approval, you are then able to use those funds to pay for dental services at our office. To learn more about financing options like LendingTree, click below or feel free to call our office!
In-House Membership Plan
Our Membership Plan provides the professional oral care you want at an affordable price! How can we do this? By offering the plan directly to you, we remove the cost and hassle of a middleman. We keep it simple, pass the savings to you, and focus on your oral care. Best of all, benefits start immediately.
Learn More About Our Membership Plan
PeaksView Perks
You can receive PeaksView Perks when you refer friends and family to our patient-centered dental office! PeaksView Perks are simple, easy, and valuable deals that can be applied towards your dental treatment.
How it works:
Whenever you refer a friend or family member to our dental office who becomes a new patient, you receive $20 PeaksView Perks per new patient that you refer.
That $20 can be applied towards any major dental treatment. In fact, we've had patients accumulate enough PeaksView Perks that they were practically able to pay for their Zoom! Teeth Whitening treatment!