Dental Team – Bedford, VA
Learn More About
Our Amazing Team
Our front desk staff, dental hygienists, and dental assistants all work together to create a warm and welcoming atmosphere for patients. They're all passionate about what they do and are always happy to answer any questions or concerns that patients have, so they feel confident in the quality of care they're receiving. You can learn more about the friendly faces that you'll see around our dental office below.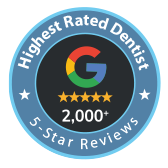 Business Office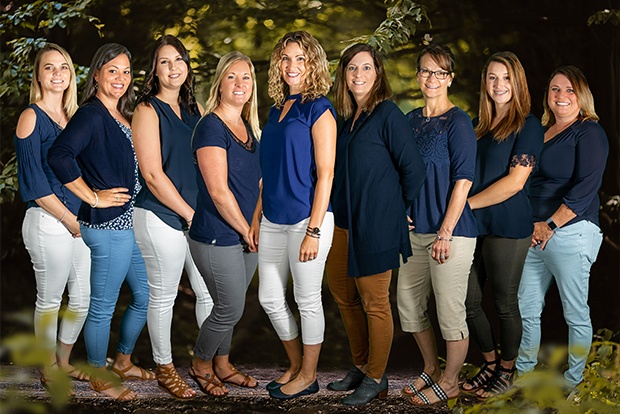 Amber · Sarah · Hannah · Marcey · Kim · Greta · Sara · Gabby · Melissa
In order to assist you in the business aspect of your dental visit, we employ 10 administrative assistants. They help you with your appointment scheduling, insurance filing, and payment options. Our Practice Manager, with her extensive knowledge of business and insurance protocols, heads this team and makes every effort to maximize the full benefits of your coverage.
Dental Hygienists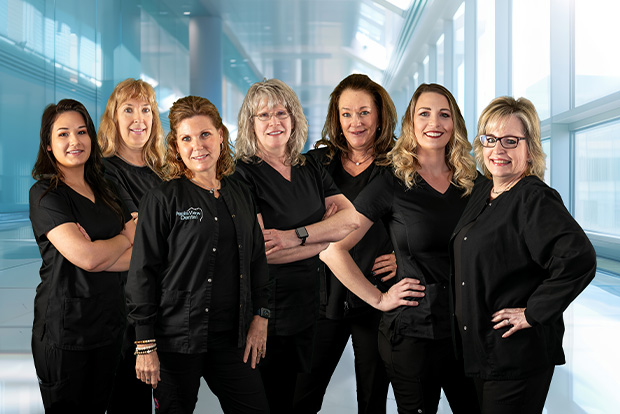 Kaysi · Kendal · Mary · Ashley · Elaine · Dina · Amanda · Missy
We are very fortunate to have 10 licensed dental hygienists employed at our dental office. Their combined experience of more than 75 years allows us to deliver optimum oral hygiene care and education.
To maintain the ideal oral, dental and periodontal health of our patients, our hygienists offer:
Digital radiographic imaging
Soft tissue management
Maintenance of periodontal (gum disease) patients
Professional cleaning
Prophylaxis
Tooth sealants
Fluoride application
Oral home-care education
Placing local anesthetics
For patient comfort, all hygienists can use NO2, Oraqix® or local anesthesia.
Dental Assistants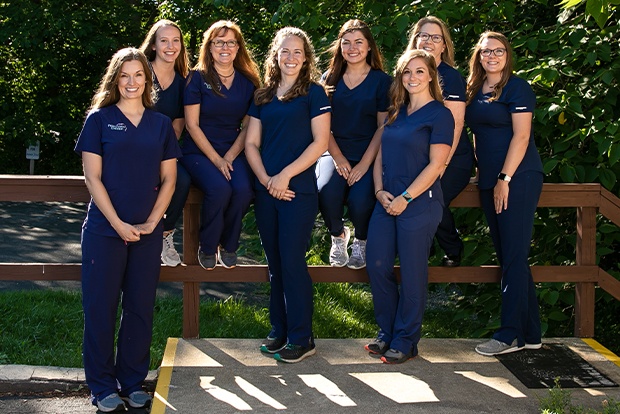 Lisa O. · Kendra · Bird · Bonnie · Hannah · Dawn · Lisa R. · Megan
We have 10 amazing registered dental assistants who do a wide array of tasks around the dental office, from coordinating our appointment schedule to taking X-rays and ensuring every patient receives the best care possible. If you have any questions, they're always around to help provide you with the answers you need!