Dentures – Bedford, VA
Rebuild Your Smile Completely
Missing teeth? Don't fret – you don't have to spend the rest of your years hiding your smile, struggling to chew, and having difficulty speaking clearly. With dentures in Bedford, you can rebuild your smile completely, whether you're missing several teeth or all of them! Learning more about this tried-and-true tooth-replacement option is as simple as scheduling an initial consultation.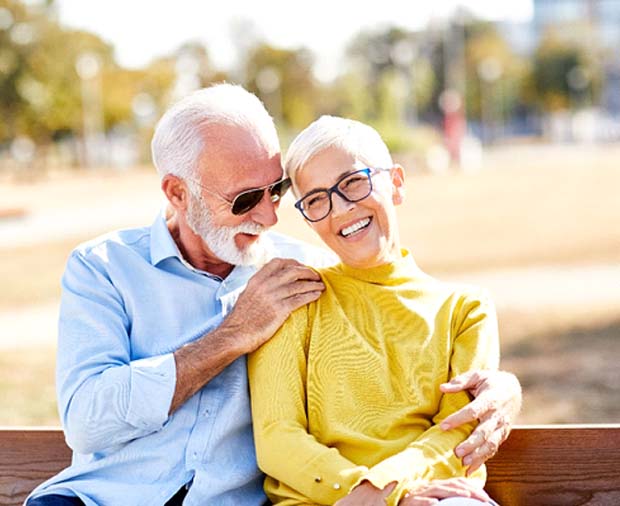 Why Choose PeaksView Dental for Dentures?
Exceptional Team of Dentists
State-of-the-Art Technology
Long-Lasting Dental Materials
Who Is a Good Candidate for Dentures?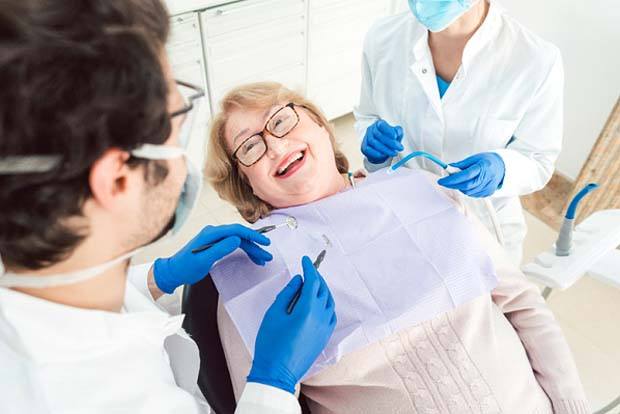 Good candidates for dentures are typically those who are in generally good health but are struggling with tooth loss. Although candidacy is given on a case-by-case basis, patients who smoke or aren't committed to implementing a solid oral hygiene routine typically don't qualify, at least right away. The good news is that preliminary treatments, like tooth extractions, ensure that nearly anyone can become a candidate. So, the best way to find out if you are? Visiting your trusted dentist in Bedford!
Types of Dentures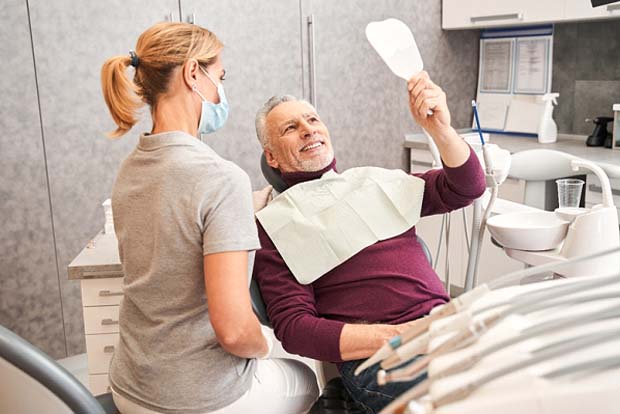 To address moderate to severe tooth loss, there are different types of dentures. Each is suitable to address a specific dental need, ensuring a full, healthy, beautiful smile is never out of reach. Keep reading to learn the three main types.
Partial Dentures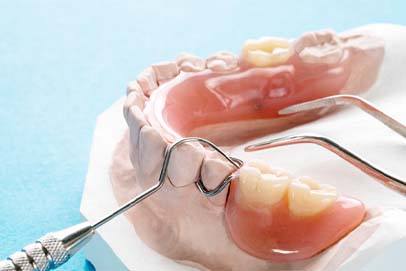 Partial dentures, also referred to as "partials," are ideal for patients who are missing several teeth but still have a few of their natural ones intact. To rebuild your smile and bite, the gum-colored base and prosthetic teeth clasp onto your existing ones, seamlessly filling in the gaps.
Full Dentures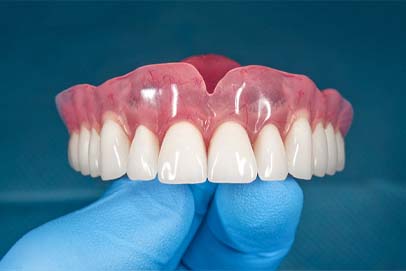 Full dentures, on the other hand, are beneficial for patients who are missing an entire arch of teeth. In this case, the gum-colored base and prosthetic teeth are held in place through natural suction or denture adhesive.
Implant Dentures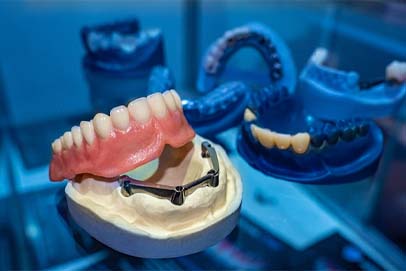 Implant dentures are a state-of-the-art approach to tooth loss. By strategically placing dental implants throughout your mouth, the dentures can anchor to the top with minimal movement and maximum durability. Plus, they can last for 15+ years and help preserve your jawbone!
The Benefits of Dentures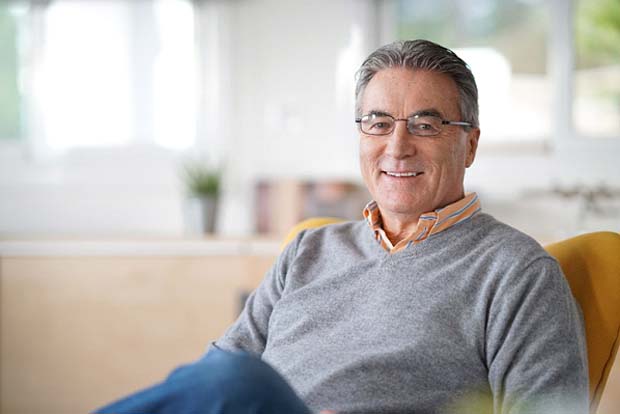 Dentures are one of the most popular tooth-replacement options available and for good reason! This custom-made, smile-rebuilding treatment comes with countless benefits, including:
Complete personalization
Cost-effective
Long lifespan
Easy maintenance
Helps preserve your youthful face shape
If you're struggling with tooth loss, don't wait to get in touch with our team. The sooner you do, the sooner you'll be on your way to a healthy and strong smile again! So, what are you waiting for? Contact us today to schedule your initial consultation.
Understanding the Cost of Dentures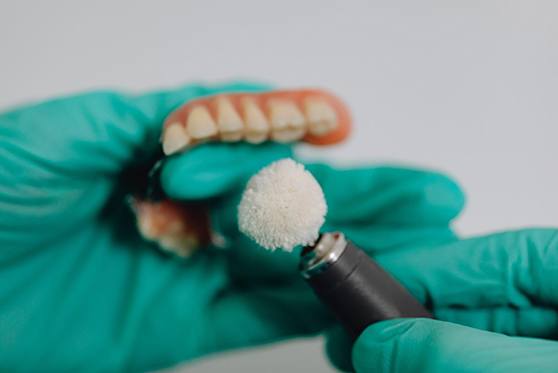 Every mouth and situation differs, so there's no one-size-fits-all denture. As a result, there's no flat fee for a new set of teeth because various factors affect the cost of dentures in Bedford. Don't worry, we know you can't go without any teeth. We'll create the comfortable, high-quality denture you need without breaking the bank.
Factors That Affect the Cost of Dentures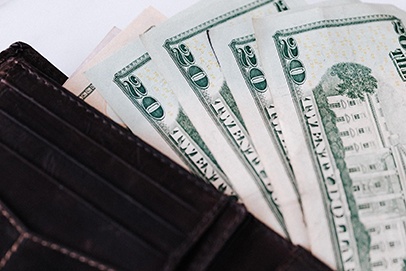 Every mouth is unique, just like fingerprints, which is why your denture is carefully crafted to fit your mouth like a glove. After examining your mouth and learning more about your goals, your denture dentist in Bedford will design a personalized strategy to rebuild your smile. While every patient's needs are different, you can expect your estimate to include:
Preliminary Treatments: It's not uncommon to require some prep work, like tooth extractions or periodontal disease therapy.
Number of Teeth: The number of teeth and arches you're treating will influence the cost.
Materials: Discounted materials may save money upfront, but they can be low quality. Instead, it's best to focus on quality when choosing materials for your new smile.
A member of our team will review your estimate and explain the fees, so you'll know exactly what you'll have to pay before committing to anything.
Are Implant Dentures More Expensive?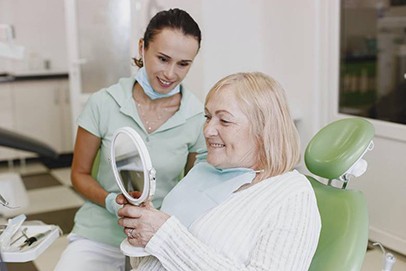 Implant dentures may cost more initially, but they are the most affordable long-term because they can last for decades. You'll never have to budget for replacements when choosing the next best thing to your real teeth. Not only will you have a permanent solution for tooth loss, but dental implants also improve your oral health. You'll save money down the road by avoiding common issues caused by missing teeth. Since it takes several steps to complete the implant procedure, you won't have to come up with a lump sum. You'll have more time to pay to keep your new smile affordable.
Does Dental Insurance Cover Dentures?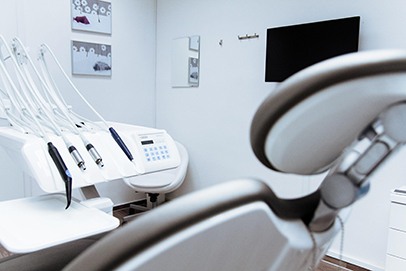 Dentures in Bedford are considered a major service, so most dental plans cover them about 50% after meeting your deductible. You can use your annual allowance to offset the amount you'll pay out-of-pocket. You can also use your coverage for other steps in your treatment plan, like the consultation, imaging, or tooth extractions. We will work on your behalf with your dental insurance to maximize your benefits to keep dentures within your budget.
Other Options for Making Dentures Affordable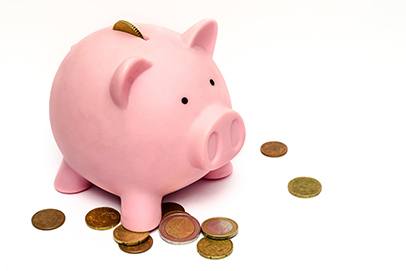 Besides working with your dental insurance, our office offers multiple financial options, so you can replace your lost teeth, even if money is tight, including:
Traditional Payments: We accept all traditional payment methods, including cash, checks, and credit cards.
Financing: Pay for your dentures using monthly installments with little or no interest financing.
In-House Savings Plan: Enjoy reduced rates for common services by joining our in-house membership plan.
If you have any questions about the cost of dentures, or you're ready to schedule your consultation, contact our office today. We look forward to restoring a beautiful, functional smile.
Dentures FAQs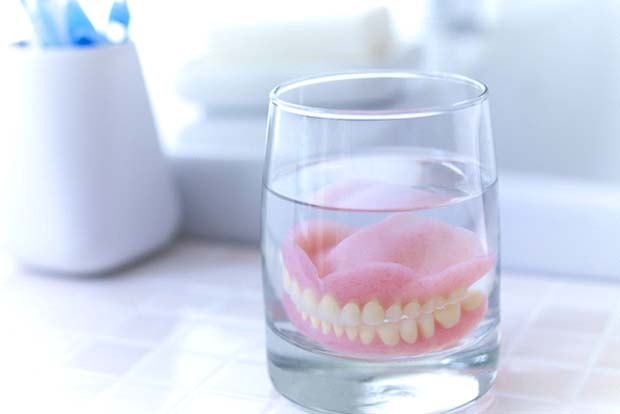 Dentures are a lifechanging tooth replacement option, but you may still have some unanswered questions about the restoration. Here are the answers to some of the most common queries we receive about dentures in Bedford. If you don't see the information that you're looking for below, just give us a call. We'd be happy to answer your questions and schedule you for an initial consultation.
Should I Have All My Teeth Pulled to Get Dentures?
Repairing a damaged tooth whenever possible will always be preferable to replacing it. Tooth extractions of any kind will only ever be recommended if deemed absolutely necessary, like when a tooth is too damaged to save thanks to extensive decay, severe infection, or trauma that's broken off most of the enamel. If all the teeth in an arch are decayed or infected with gum disease, replacing them with dentures may be a viable option, but your dentist will always explore all of your options before recommending this approach.
Can I Sleep with My Dentures?
Dentists generally recommend taking your dentures out at night when you go to bed. When you first get your dentures, you'll typically be told to keep it in your mouth for 24 hours, including while you sleep. After this, you should be taking them out every evening. This is because wearing dentures restricts the circulation in the gums, leading to soft tissue irritation and potentially speeding up ridge resorption. Taking dentures out gives the gums a chance to recover and get the nutrients they need while you sleep. The dark, moist space beneath dentures is an ideal place for bacteria to thrive, so sleeping with them in the mouth has also been found to be associated with a higher risk of pneumonia. Ultimately it is a good idea to take them out while you catch some Z's.
Will It Hurt to Get Dentures?
If you need to have teeth extracted before getting dentures, you're likely to experience some discomfort after oral surgery. Take recommended over the counter and prescribed pain relievers as directed. The discomfort should improve 3 to 5 days after the procedure. When you first receive new dentures, some minor irritation may occur while your mouth adjusts to the new appliance. If you are switching to a new set of dentures, the adjustment process might take longer than before. If pain persists, give us a call so we can take a look.
Can You Still Eat Steak with Dentures?
Tough meats, like steak, are often difficult to chew with dentures, but it's still possible to do so if you take the right precautions. Select tenderloin and other beef cuts that don't contain as many connective tissues or muscle fibers, as these elements are what often make steak difficult to chew. Be sure that the meat is thoroughly tenderized beforehand. Cut the steak into small, manageable pieces – the smaller they are, the easier they will be to chew.
Can You Kiss with Dentures?
You might fear that you won't be able to kiss with dentures. However, rest assured: It's possible to do so.
Still, most need time to adjust to how kissing feels with dentures. Since prosthetic teeth don't have nerves like natural ones, you won't feel when they contact an outside force. As such, be cautious of kissing anyone too hard — you don't want to bump dentures against your partner's pearly whites!
Of course, you'll get the hang of it eventually. Just focus on kissing gently when wearing dentures so that your restorations don't shift out of place.
Do Upper Dentures Always Cover the Palate?
No, actually — some upper dentures don't do so at all! Several kinds exist that lack a plate covering.
You see, your ability to taste is diminished when the soft palate is covered. In light of that fact, some manufacturers make palate-less dentures for the upper arch. These kinds usually have a horseshoe shape similar to what you'd get for the lower arch.
If you'd like to know more about the types of dentures we offer, contact our office. Our team is happy to explain the options regarding your upper arch.
Can I Use Regular Toothpaste to Clean My Dentures?
True enough, your dentures should be brushed and rinsed daily. However, you shouldn't use regular toothpaste for this process.
The problem is that standard toothpaste can be abrasive. If you're not careful, the paste can leave microscopic scratches on your dentures' surfaces. From there, the prosthetic teeth could get seriously damaged. (Similar concerns apply to hard-bristled brushes. Therefore, always choose a soft-bristled toothbrush instead.)
When cleaning dentures, do so with hand soap or mild dishwashing liquid. You could also add specialized denture cleaners into the mix. As for the timing, make sure you clean the dentures after every meal.
Why Do My Dentures Smell?
Dentures can get smelly for a variety of reasons. The most common ones include the following:
Trapped Food: Sometimes, dentures can trap food beneath themselves when they don't fit properly or aren't cleaned well. In those cases, these "leftovers" can degrade and give you bad breath.
Gum Irritation: Ill-fitting dentures often irritate your soft gum tissue, leading to issues like sores and infections. Such conditions can contribute to a smelly mouth.
Dry Mouth: Denture wearers tend to produce less saliva, which can lead to a dry mouth. The resulting dryness can then allow harmful bacteria to thrive and cause bad breath.
Thankfully, it's pretty simple to keep dentures from getting smelly. One approach is to clean them daily with a soft-bristled brush and special cleaner. Alternatively, you could soak them in a disinfecting solution nightly so they stay moist and bacteria-free. The best method, though, might be to rinse your dentures after every meal — doing so removes food bits and prevents bacterial buildup.