Replacing Missing Teeth – Bedford, VA
Enjoy a Complete Smile Again
At some point in your life, you may end up losing a tooth or multiple teeth due to an injury or some kind of oral health issue. Not only will this affect the way you talk and limit the kinds of foods you can eat, but it can also lead to bone loss and a variety of other complications. You need a fully intact smile in order to maintain a healthy, fulfilling life, so get in touch with PeaksView Dental immediately if tooth loss is looming in your future to review your options for replacing missing teeth in Bedford, VA.
Why Choose PeaksView Dental for
Replacing Missing Teeth?
State-of-the-Art Dental Technology
Long-Lasting Dental Materials
Dental Implants Available Today
Dental Implants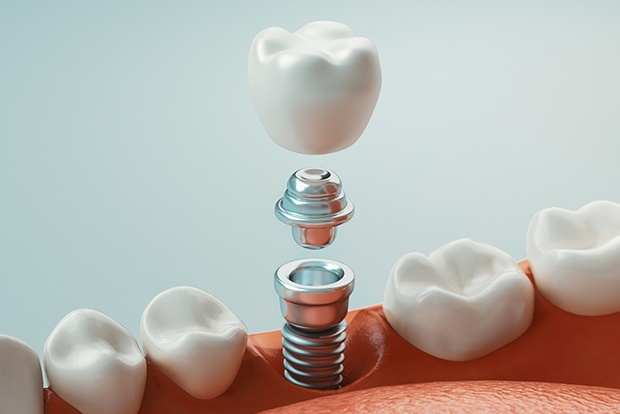 When it comes to tooth replacement solutions, dental implants offer exceptional benefits for oral health, lifelike beauty, and long-lasting durability. At PeaksView Dental, Dr. Owen has undergone extensive training in the art of full and mini-implants, and this allows him to handle your entire procedure right here in our welcoming dental office location without the need for outside specialists. Here are just some of the advantages of choosing dental implants to replace lost or gravely decayed teeth:
Improved appearance. Dental implants replicate the entire structure of your natural tooth, creating a result that looks and feels virtually indistinguishable from the real thing.
Clearer speech. Patients who wear traditional dentures fall victim to slippage resulting in their speech being mumbled or slurred. Dental implants eliminate this and allow confident communication.
Added comfort. Implants essentially become part of your smile, eliminating the unnatural bulkiness and foreign feel that can occur with removable dentures.
Simpler eating. Loose dentures make the act of chewing certain foods difficult. With dental implants, patients won't need to make any inconvenient changes to their diet.
Rejuvenated oral health. Unlike dental bridges, implants don't require nearby teeth to be altered or reduced to support them. Instead, your natural smile stays as intact as long as possible, allowing patients to enjoy their oral health longer than ever.
High levels of durability. With the right homecare and professional maintenance, implants easily last 20 years, 30 years, or for the rest of the patient's life.
Restored self-esteem. Because of their great appearance, dental implants give patients back the confidence they've been sorely missing!
Convenience. Dental implants eliminate the need for messy denture adhesive, cleaning solutions, and the act of removing your new teeth from the mouth altogether.
Learn More About Dental Implants
Dental Bridges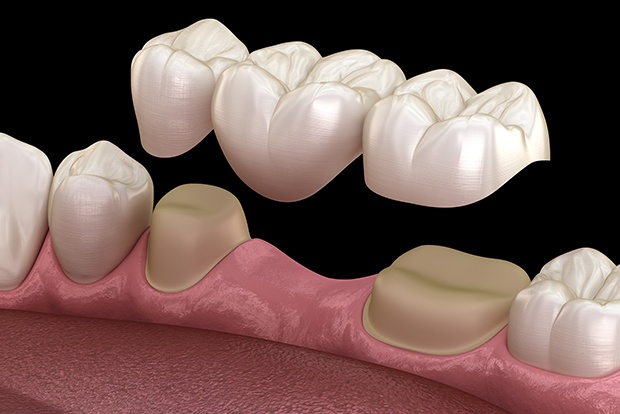 If you're struggling with a tooth that's severely damaged or lost, a custom restoration from our dental office can rebuild much-needed oral health and function for patients from Goode, VA and surrounding areas. Crowns are designed to fit over an individual tooth providing valuable protection in a durable and lifelike fashion - while bridges sturdily replace one or more missing teeth in a row. With state-of-the-art technology and the latest in digital scanning, we can capture a 3D replica of your teeth without those messy impression materials. This gives us a more accurate result to help ensure a well-fitting and comfortable restoration that will keep you smiling!
Dental Implant Dentures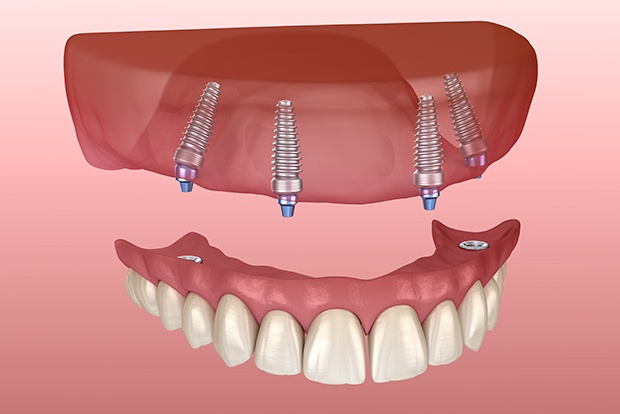 Implant dentures allow you to replace a full arch of teeth without having to use messy adhesives. You will no longer have slipping and irritation while regaining an increased biting force of over 70% when compared to traditional dentures.
Instead of replacing each tooth individually, an average of four dental implant posts are used to anchor an arch of replacement teeth to the jawbone. You gain the security of dental implants with an option that looks and feels almost natural.
With implant supported dentures, you make a true investment in your oral and quality of life. You gain added comfort when eating and speaking while promoting your oral health. You will enjoy added convenience as you care for them just as you care for natural teeth. Your new complete smile will last a lifetime to revitalize your confidence.
Dentures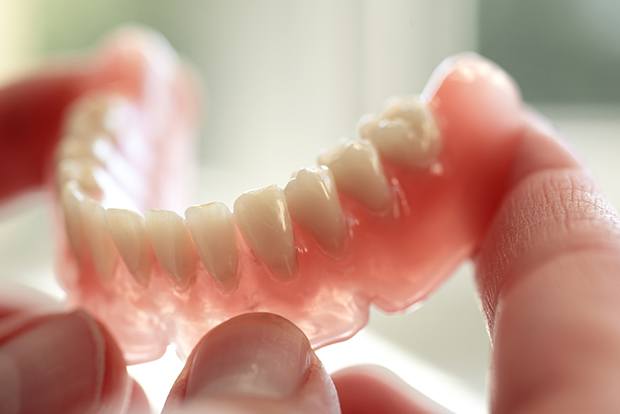 Dentures have been a reliable and cost-effective solution to tooth loss for many years now. At PeaksView Dental, we offer:
Full Dentures – This option is designed to replicate the entire bottom or top arch of teeth staying in place within the mouth through natural suction or denture adhesive.
Partial Dentures – This option is designed to restore a number of teeth along a single arch while leaving remaining healthy teeth in place. It stays in place with the help of clips and/or brackets.
Both full and partial dentures are designed to be removable, which means that patients can take them out of the mouth to clean and store them nearby when sleeping. However, patients looking for more permanence in their rebuilt smile may prefer implant-retained dentures. These customized prosthetics are designed to attach into place over strategically placed implants; both fixed and removable options are available depending on the patient's personal preference and level of oral health. We welcome you to learn more about dental implants.