Dentist Reviews – Bedford, VA
Take Our Patients'
Words for It!
If you want to find out more about the outstanding dentist, team, and dental office that makes patients in Bedford look forward to visiting the dentist, we invite you to click the links below to read reviews from PeaksView Dental patients just like you. We appreciate our busy patients taking time to let us know about their experience, and we hope you'll find their feedback helpful!
PeaksView Dental is honored to receive the Dental Nachos Award for the highest rated dental office of the 20,000 plus members!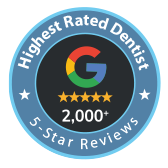 Read Our Reviews
If you're looking for a new family dentist in Bedford, we want to make sure you're choosing the best provider for your needs, which is why we welcome all potential new patients to read our Google and Facebook reviews. You can do so by clicking on the links below.
Read Our Google Reviews Read Our Facebook Reviews
Leave a Review on Google
Whether you've been bringing your family to our dental office for years or you just visited us for the first time today, we welcome you to leave us a review on Google. We love hearing about our patients' experiences and always striving to uphold our commitment to great service.