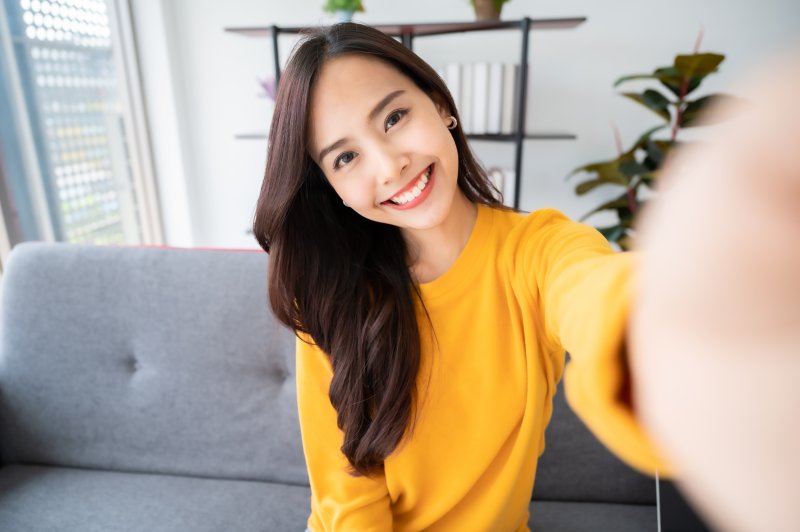 Do you often hide your teeth when you laugh, talk, or smile? Are you struggling with minor dental flaws, like chips or stains? If you said "yes" to any of these, then you might be considering getting veneers for cosmetic dental treatment. These super-thin shells can conceal multiple imperfections simultaneously, providing you with a smile you can be proud of! Read on to learn the five essential benefits of porcelain veneers!
#1: Enjoy Swift & Easy Results
It typically only takes patients two quick and simple appointments to create their dream smile with veneers. You won't even have to do much to prepare for your treatment. For your initial visit, your dentist will remove a tiny portion of your tooth enamel to make room for the porcelain shells before taking impressions of your smile. You'll then be provided with temporary veneers to protect your exposed teeth and serve as a "test run" for your treatment. Once your final ones are fabricated, you'll return to the office to replace the provisional shells with your permanent veneers.
#2: Veneers Provide a Comprehensive Solution
Do you have one or more dental flaws—such as chipped, cracked, stained, gapped, or misshapen teeth? With veneers, you can correct most of these issues simultaneously! Not only can these porcelain shells alter the size and shape of your teeth, but they'll also provide a virtually permanent whitening solution that can be maintained with proper care.
#3: Veneers Require Simple Dental Care to Maintain
You won't have to practice a special or complicated dental cleaning routine to preserve your brand-new veneers. The best way to maintain them will be to simply care for them as you would your natural teeth. This will involve brushing twice a day, flossing daily, rinsing with mouthwash often, and avoiding bad oral habits that can ruin the surface of your smile. You might also consider using a soft-bristled toothbrush and non-abrasive toothpaste to ensure your new teeth remain in pristine condition.
#4: Your New Smile Can Last for Years
Dental porcelain is durable enough to withstand the excessive pressure of chewing. It's also highly resistant to stains and chips, meaning you won't have to worry about any food restrictions. While it depends on how well you take care of them, you might expect your veneers to last 15 years or more before needing to be replaced!
#5: Show Off Natural-Looking Pearly Whites
Your veneers will look and feel exactly like your permanent teeth. Not only can the dental porcelain be shaded to match the rest of your smile, but it will also reflect light similar to natural enamel. After completing your treatment, most people won't be able to tell that you have these cosmetic shells.
If you're interested in improving your smile, consult your dentist about veneers. They'll be happy to set up your consultation and help you achieve the pearly whites you always wanted!
About the Author
Dr. Jay Owen earned his dental doctorate from the Medical College of Virginia School of Dentistry. He's also a member of several groups like the Virginia Dental Association and the Lynchburg Dental Society. He provides a wide range of advanced and comprehensive services, including veneers. If you'd like to schedule a consultation, visit his website or call 540-586-8106.