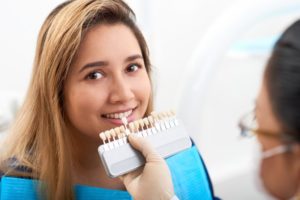 Have you been thinking about fixing the stains, gaps, and chips in your teeth with veneers? If so, you might want to know more about how veneers work before you commit to them. After all, part of the treatment is irreversible, so you'll want to be absolutely sure you're making the right decision! To give you an idea of what to expect when getting veneers, here's a basic outline of the five steps in the veneers process.
Step 1: Picture Your Future Smile
First, you need to figure out which aspects of your smile you'd like to improve. Are there minor yet noticeable chips or cracks in your teeth? Is one of your teeth deeply stained? Do you wish to close small gaps between your teeth? Once you've determined the specific changes you want to make, then your dentist will have something to work with.
Step 2: Preview Your Results
Next comes the consultation with your cosmetic dentist. These days, most dentists can give you a glimpse of what your grin will look like after getting veneers thanks to virtual smile design technology. They might be able to digitally alter a current photo of your teeth, or even create mock-ups of your results. Either way, you'll get an idea of your results before committing to the treatment.
Step 3: Prepare Your Teeth
If you decide to move forward with veneers, the next step is preparing your teeth. This typically involves shaving a thin sliver of enamel from the edges of the tooth to ensure the veneers fit seamlessly. It's worth noting that tooth enamel cannot grow back, so you need to be certain that you want veneers.
Step 4: Practice Your New Grin
After preparing your teeth, your dentist takes impressions of them to send off to a dental laboratory. It may take a few weeks for them to design your veneers, so in the meantime, your dentist will most likely place temporary veneers. The purpose of these temporaries is twofold: they protect your teeth while also letting you take your new smile for a test drive.
Step 5: Place Your Permanent Veneers
When your final veneers arrive at your dentist's office, you'll return to have your temporaries removed. After making any needed last-minute adjustments, your dentist will cement the veneers onto your teeth with a solution so secure that they should easily remain in place for more than a decade, possibly two.
While the details of the veneers process can vary from person to person, these five basic steps are virtually the same for everyone. If you want to learn more about what it's like to get veneers, or if you're ready to begin the process, reach out to your cosmetic dentist today!
About the Practice
With our team of five expert dentists, PeaksView Dental is happy to meet all of your dental care needs under one roof, including cosmetic dentistry treatments like veneers. We take pride in helping patients finally achieve their dream smiles with tailored treatments that put their needs first. We can even let you preview your results with our virtual smile design technology. To get started on transforming your smile with veneers, get in touch with us by calling 540-586-8106.