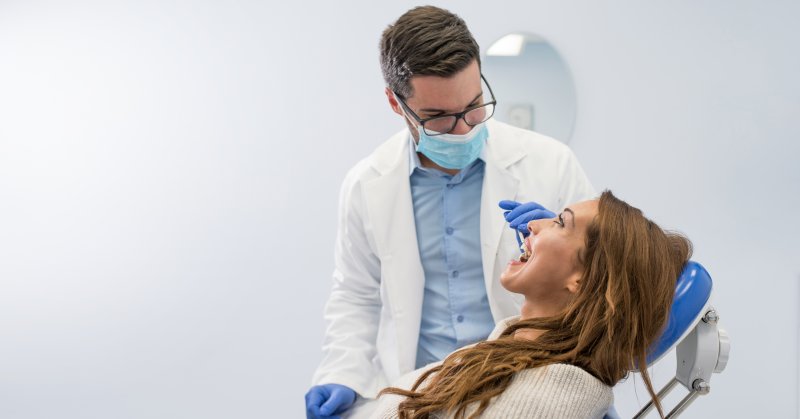 Over the years, you might have heard about the importance of routine dental checkups for keeping your teeth strong and healthy. If you've visited your dentist recently, then you know you'll also get a thorough cleaning at the end of your visit! But what exactly are they looking for during your appointment? Keep reading to learn seven things you probably didn't realize your dentist was doing during your checkup.
#1: Checking Every Tooth
Of course, your dentist will always check each and every tooth for any health issues. By using a dental mirror and probes, they can evaluate the strength of the enamel of your teeth and detect if there are potential cavities developing.
#2: Examining Your Gums
It's important to avoid gum disease which can lead to other health problems. During your checkup, your dentist will look for signs of swelling around the gum line or check for large gum pockets—both of which are early warnings of periodontal disease.
#3: Checking Your Bite
Your dentist will also check your bite pattern in case your teeth have shifted. Having misaligned teeth can make it difficult to clean your teeth efficiently, and if this is the case, they might recommend you see an orthodontist.
#4: Evaluating Your Tongue
They will also check the state of your tongue, checking its size and texture to ensure it's healthy. Your tongue should normally be a pink color, so if there are any changes to its shade or smoothness, it can indicate an overall health issue that needs to be treated as soon as possible.
#5: Inspecting Your Salivary Glands
Your saliva is crucial for washing away bacteria and acids in the mouth, so your dentist will want to make sure you're producing a sufficient amount. By checking your salivary glands, they can help prevent your teeth from becoming susceptible to cavities, bacteria, infection, and even bad breath.
#6: Checking Your Temporomandibular Joint
The temporomandibular joint (TMJ) is the joint that connects your jawbone and jaw together. Your dentist will see if it's free of clicking or grinding, which would indicate a healthy movement for your bite.
#7: Oral Cancer Screening
In addition to monitoring your teeth, they will perform an oral cancer screening during your dental checkup. They will assess your lips, head, neck, and mouth tissues (like the tongue) for any abnormalities that could point to oral cancer.
Besides scraping and polishing your teeth for a brighter smile, your dentist checks multiple aspects of your oral health to ensure you're safe and healthy. The next time you go to your regular dental checkup, feel free to ask your dentist exactly what they look for, and they'll be more than happy to answer your questions!
About the Practice
At PeaksView Dental, we offer top-quality and comprehensive dental services for all ages. Our team is passionate to treat your dental needs, using advanced equipment to deliver the best results. We provide a variety of advanced treatments, including dental checkups to keep you on track with a healthy smile. If you're ready to schedule your next regular appointment, visit our website or call us at (540) 586-8106.